The Kum & Go Fleet Card at a Glance

Accepted at Kum & Go only or at 95% of U.S. gas stations — you decide

More security and control than credit cards or cash
Automatic fuel expense tracking

U.S.-based customer service, ready to help 24/7
More Than a Fuel Card — A Small Business Solution

Know where your money goes
See who spends what, where and when
Capture detailed info for every purchase
Use simple online and mobile tools

Control employee spending
Limit use by amount, time/day, product, and more
Set spending limits by employee or card
Driver PINs to help curb misuse

We'll do the paperwork
Automatic fuel accounting and expense tracking
No need to collect employee fuel receipts
Easy one-click reporting
Compare the Kum & Go Fleet Card to paying for fuel with credit cards or cash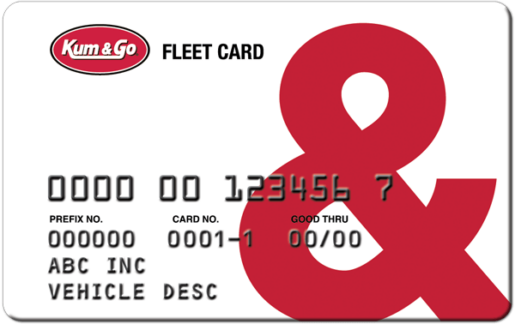 Kum & Go Fleet Card
Savings and flexibility for your business
Use the Kum & Go Fleet Card at Kum & Go only or at 95% of U.S. gas stations. We let you decide for every card in your account, giving you the flexibility to do what works best for your employees and business. Either way, you save up to 7¢ per gallon whenever you fill up at Kum & Go!*
Smarter Than a Credit Card, Safer Than Cash

Know where the money goes
Driver PINs at the pump help curb misuse, and let you track spending by employee, location, time of day, and more.

Stop wasteful spending
Set the limits that work best for your business and employees — by amount, location, authorized times, or product type.
Prevent unauthorized purchases
We'll help enforce your fueling policy, blocking transactions that fall outside your spending limits.
Use Simple Online and Mobile Tools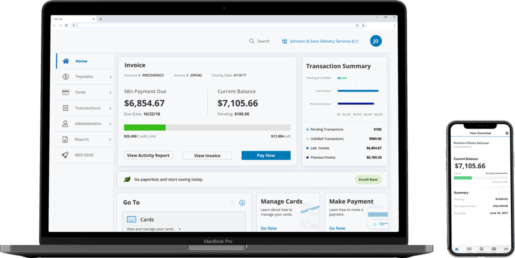 Access your account anywhere, anytime
View card activity, access invoices, download reports, and more.
Manage cards and employees
Instantly add, cancel or update card and driver info.
Use our mobile app when you're on the go
Make payments, check available credit, manage cards, and more.
Save on products and services for your business!
Access exclusive discounts on products and services for your business.
When every expense matters, the Kum & Go Fleet Card helps you get more for every dollar.†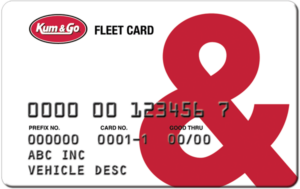 Let's Talk
Got questions? Ready to apply? We're here to help.